WORK SPACE GALLERY
Working in Swindon, Wiltshire and the surrounding areas, we have extensive office fit out and office refurbishment experience, designing and partitioning work spaces to create new offices, extra meeting rooms and work cubicals for additional staff using the latest partitioning techniques and materials.
We install suspended ceilings to hide services including air conditioning units, electrical / data cables and pipe work while retaining easy access for maintenance.
We build temporary and permanent raised storage rooms and offices using mezzanine flooring to make the best use of available height particularly in warehouses and outside on construction sites.
We also design and install clean rooms and laboratories to provide clients with their own in-house controlled environments.
Please see a selection of the projects we have completed below. if you would like to speak to us please call on 01793 683 586 / 07851 258 038 or email spaces@ampartitioning.co.uk.
Acoustic Glass Partitioning Project in Cricklade, Wiltshire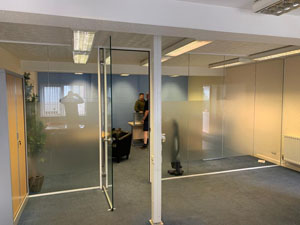 Acoustic seamless glass partition with glass door and manifestations
Office Fit Out Project in Wiltshire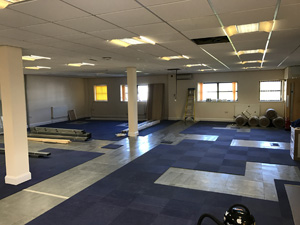 ...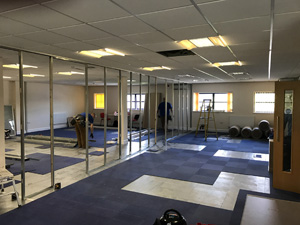 ...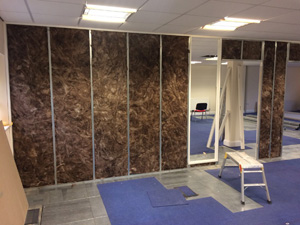 ...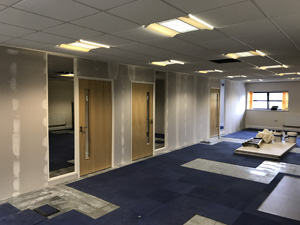 ...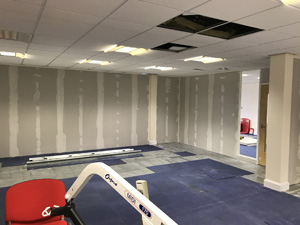 ...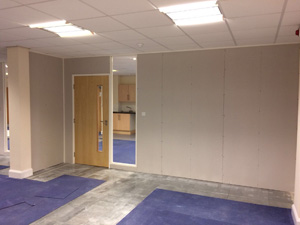 ...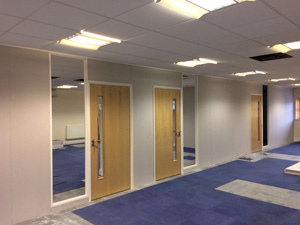 ...
...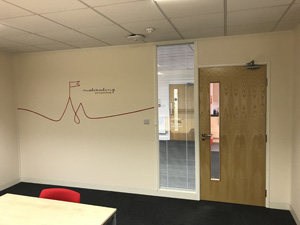 ...
A New Pharmaceutical Project
Our task here was to strip out and form new door openings in existing blockwork.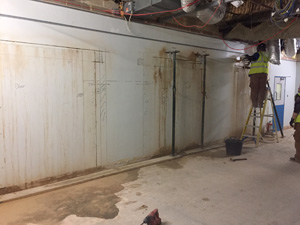 Marking out new door openings and cutting out blockwork.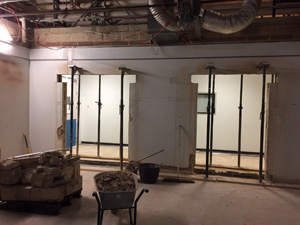 Blockwork removed ready for the installation of lintels.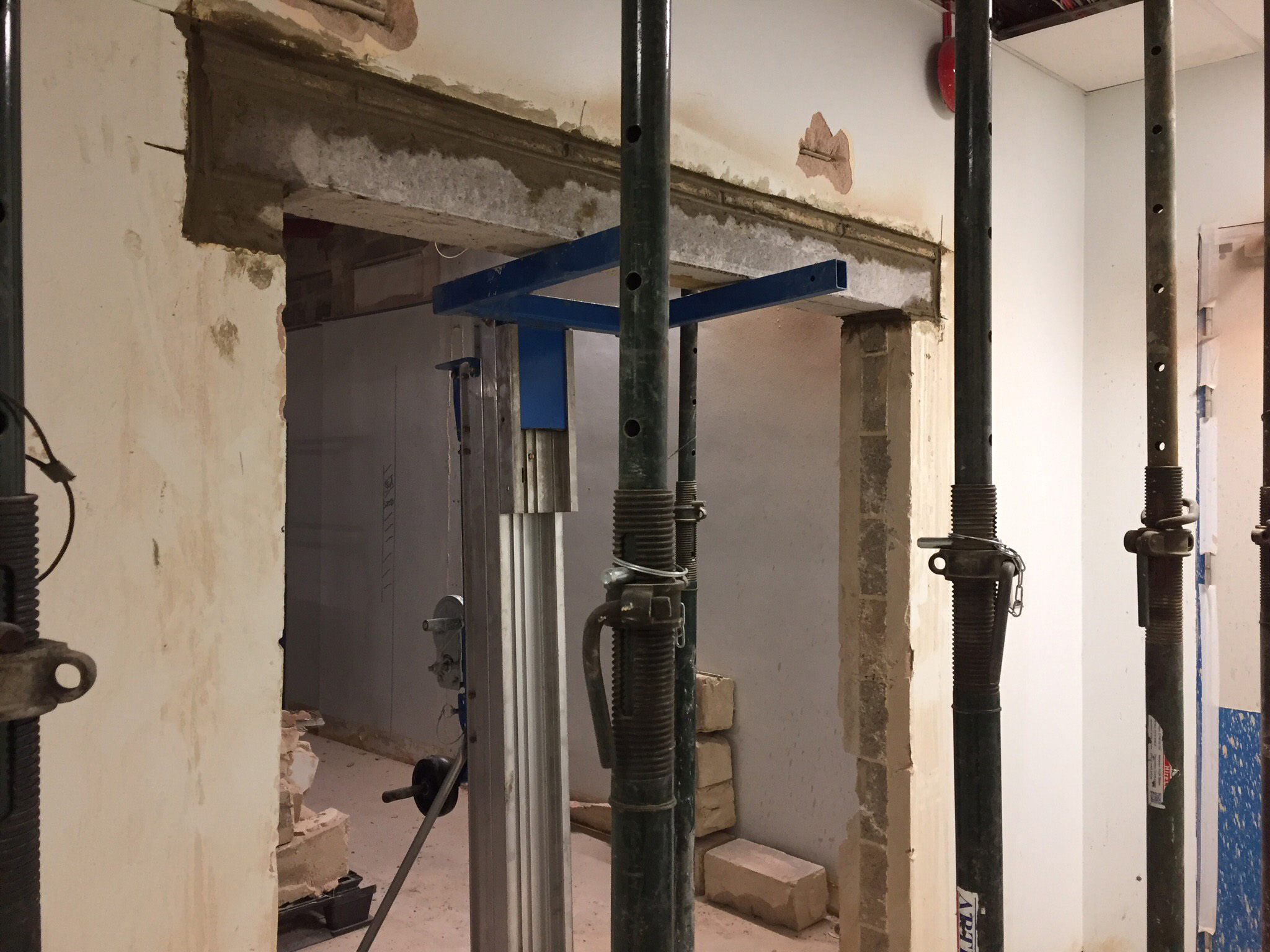 Installation of new concrete lintels.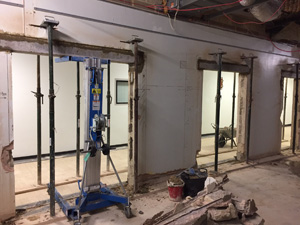 Acro supports taking the load of the floor above and blockwork.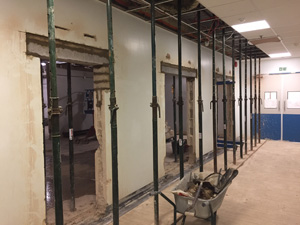 All lintels installed and finished waiting for the mortar to cure.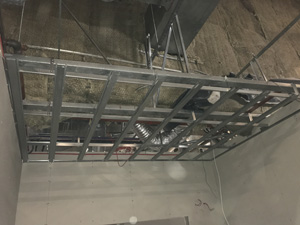 MF suspended ceiling system.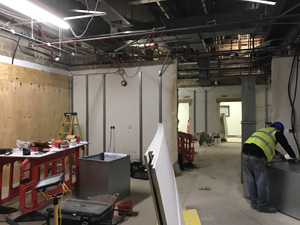 Installing MF cladding system with ply on the first layer.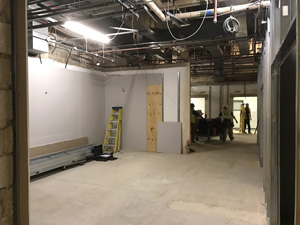 Second layer finish of plasterboard over the top of ply.
Metal stud partitioning system. Door apperture made and ply first layer installed.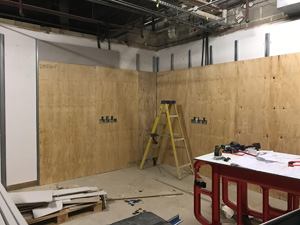 MF cladding system with ply, first layer. Electric power and data sockets cut out.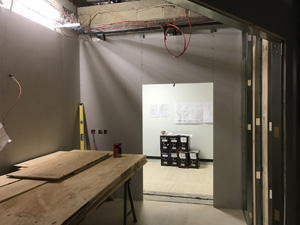 Metal stud partitioning system installed.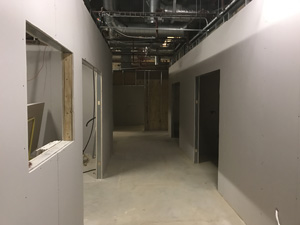 Solid partitioning system, double boarded with window and door appertures forming corridor.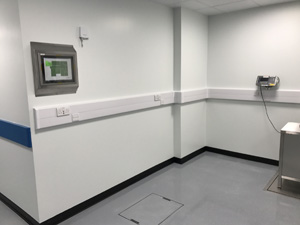 ...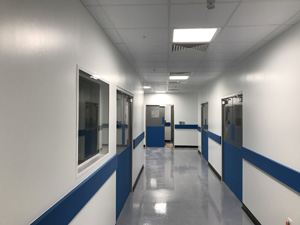 ...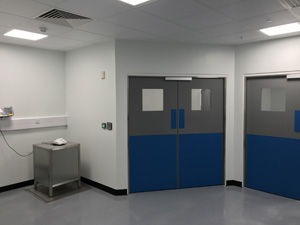 ...
A new airlock room in production
We were creating a new airlock room from one production line to another.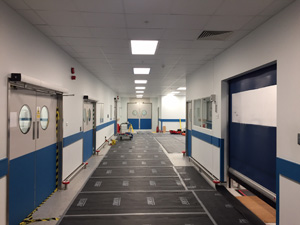 We installed temporary floor protection.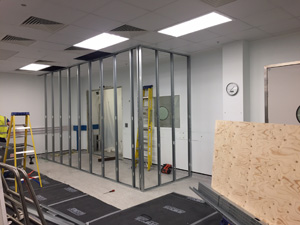 Install of metal studs for partitioning system.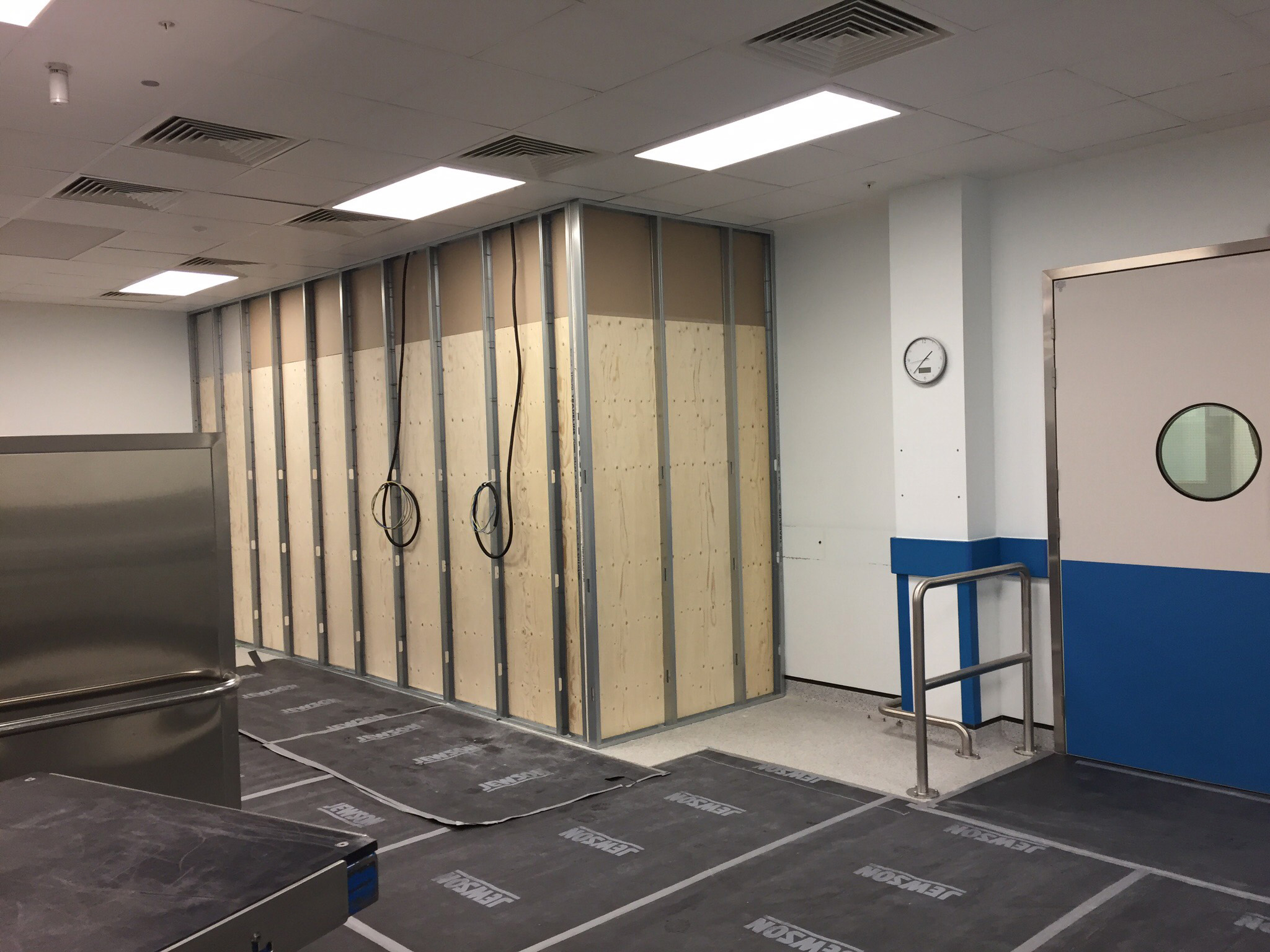 Inside of airlock plywood and pasterboard waiting for install of first fix electrics.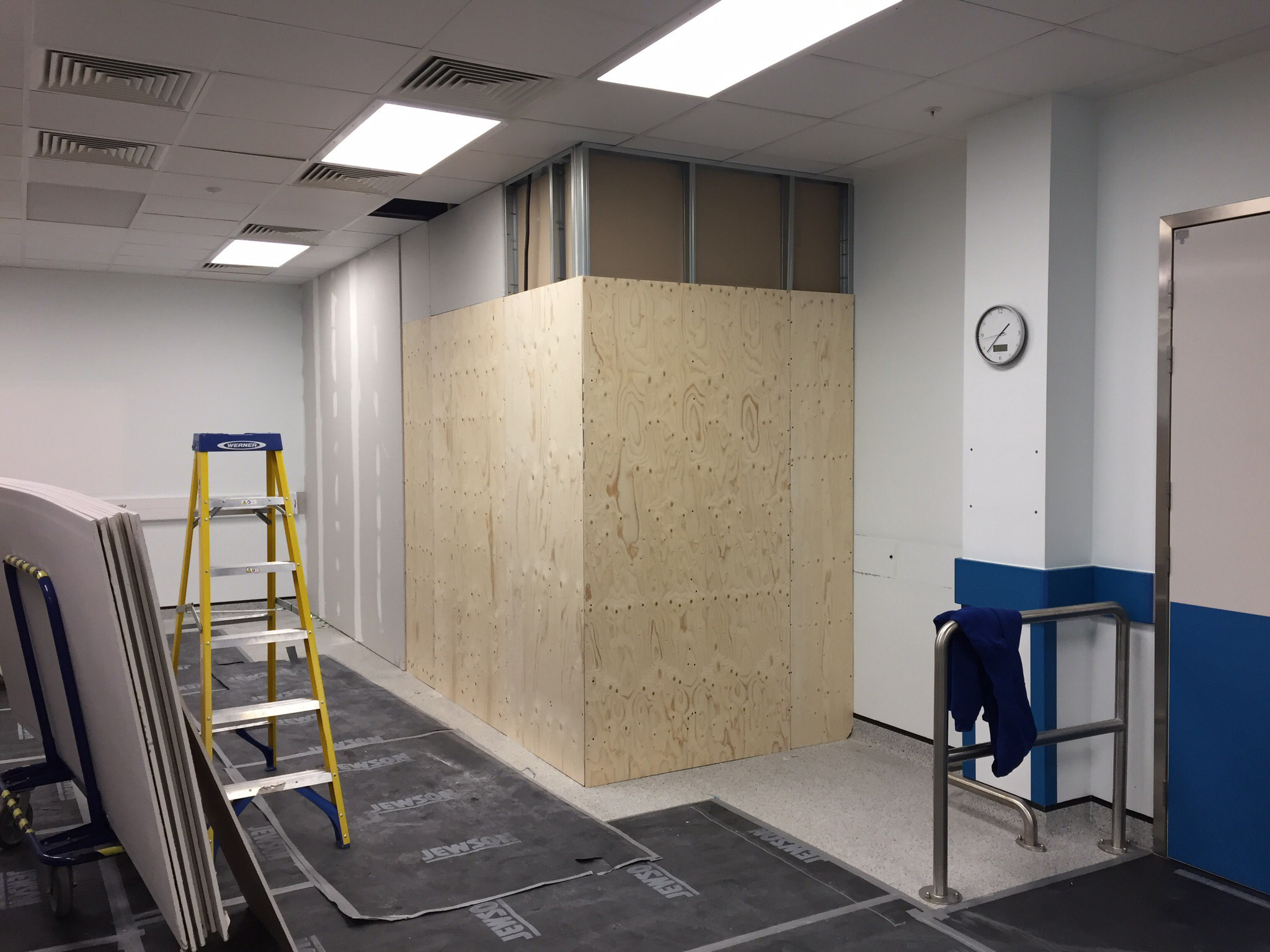 First fix electrics complete, finishing plywood and plasterboard for the completion of partitioning system.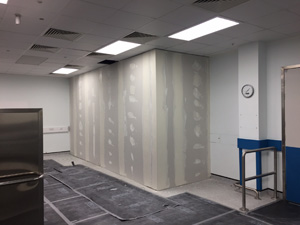 Plaster taped and jointed ready for decoration.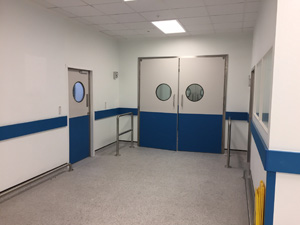 We installed GRP double and single doors, the blue bump rail and stainless steel crash bars with decoration throughout.
An office fit out and staff kitchen installation in offices in Swindon, Wiltshire
Together with building open plan partitioning systems to divide work spaces and installing a fitted kitchen, this office fit out project also included bespoke timber display units and shelving.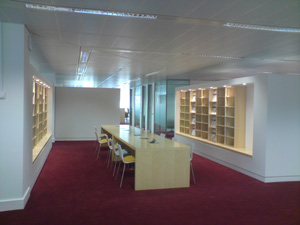 The bespoke joinery display units were all built using solid partitioning systems and shadow detail skirting with timber shelving.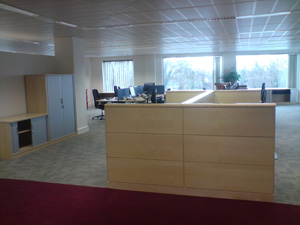 Bespoke office dividers using timber wall partitioning created workspaces for staff in an open plan office.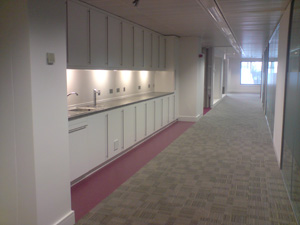 We installed a new streamlined fitted kitchen in limited office space for use by employees.
Office refurbishment with partitioned meeting rooms and open plan workspaces
For this office refurbishment project we installed bespoke timber shelving, glazed partitioned cubicals, curved wall partitions and desk partitioning units. All the offices and units had shadow trims around the ceilings and skirting which has a very nice finish.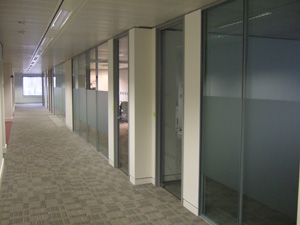 Using a solid partitioning system complete with grey aluminium powder coat head channels / wall abutments / door frames, these offices were finished with glass doors and glazed partitions.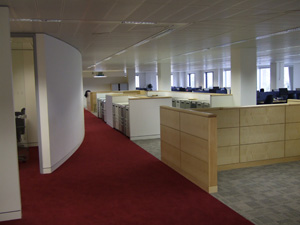 We installed bespoke timber desk dividers in this open plan office and a curved wall partition creating a private office with grey shadow detail skirting and a glass door.
Installing Mezzanine floor office spaces
Instalation of an open planned office on top of a new mezzanine floor with single partitioned corner office with FD60 rated fire door.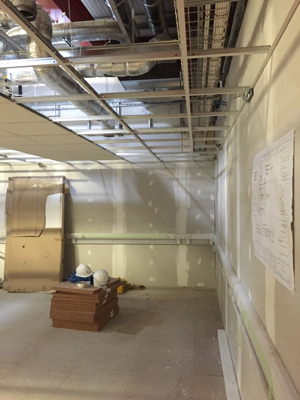 We installed a solid wall cladding system with a grid suspended ceiling system around the perimeter of the mezzanine with a single office. The office was built using a solid partitioning system with double glazed window and integral blinds.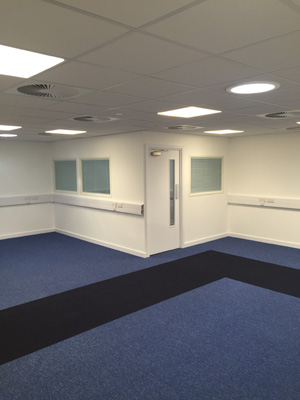 We also created a fire proof lobby walkway corridor from another mezzanine into this office with timber FD60 specification fire door and full height vison panel with a solid partitioning system. Timber doors with full height vison panels and timber skirting added the finishing touch to the new work space.